Scottish people 'shop more but spend less'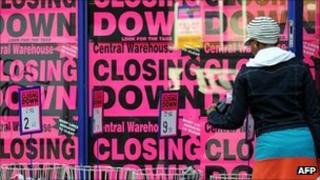 Scots went to the shops more often in the early summer months but spent less, according to a survey by the Scottish Retail Consortium.
Footfall between May and July was up by 0.2% on the same period last year - higher than the UK average of -1%.
Scotland was the only UK region outside London and the south west of England to record a rise in footfall in its shops.
However, the survey also showed that one in nine Scottish stores remained vacant.
And although latest figures show a slight increase in the value of retail sales, the consortium said many shopkeepers were suffering.
Richard Dodd, spokesman for the Scottish Retail Consortium, said: "Sales were up but by less than inflation so actually people were buying less stuff than twelve months ago even though slightly more of them were going out shopping."
He added: "I think what we can conclude from that is that shopping for a lot of people is a ritual, it is part of their lives and they are still doing that.
"At the same time, in these really difficult times, instead of doing one really major shop they are breaking that down into smaller and less costly shopping trips."