Aker Solutions to create 500 new UK jobs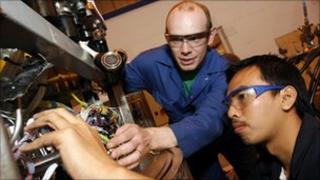 International oil services firm Aker Solutions has announced it is to create 500 new UK jobs over the next year.
The Norway-listed company said it would recruit 300 staff for its Aberdeen operations, with the rest planned for its west London engineering office.
The move follows a 19% rise in its order backlog since the start of the year.
Aker said it was staffing up its UK organisation as it expected workload levels to remain high in future years.
The jobs announcement has come only two days after an Oil and Gas UK survey suggested the outlook of the UK upstream oil and gas industry remained "fragile" in the second quarter of this year.
The industry body said confidence had been hit by a £2bn windfall tax on oil producers announced in the 2011 Budget.
The majority of Aker's new jobs in Aberdeen will be located at its subsea technology business, where 200 new posts will be created.
A further 70 staff are being recruited to support work for maintaining and upgrading North Sea oil platforms in order to extend their field life.
Aker also plans to hire about 200 engineering staff for its new offices in Chiswick Park, London, with a target of 500 by the end of 2015.
The engineering hub will support field development projects for the North Sea and worldwide.
'Waves of work'
Alan Brunnen, managing director of Aker Solutions in Aberdeen, said the company had decided last year to take a much more proactive recruitment approach.
He continued: "Since then our strategy has been to man-up ahead of the big waves of work that we know are coming.
"We anticipate that workload levels will remain high over the coming years, which is why we are staffing up our UK organisation now.
"We want to be well placed to capitalise on future opportunities that arise in our markets."
First Minister Alex Salmond described the jobs announcement as "great news" for Aberdeen, adding it underlined the continuing strength of the energy sector, both in terms of jobs and investment.
Aker currently employs 2,500 people in Scotland, with smaller offices and facilities in Great Yarmouth, Maidenhead, Stockton-on-Tees and Whitstable.
Overall, it has 17,000 employees and 6,000 contract staff working in 30 countries worldwide.
Aker has annual revenues of about £3.9bn.