Clyde Blowers boss Jim McColl aims for renewable market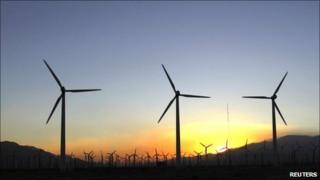 Engineering entrepreneur Jim McColl has said he intends to expand operations in Scotland to manufacture and assemble parts for renewable wind turbines.
The chairman and chief executive of Clyde Blowers said he was ready to join the renewable energy boom expected to come to Scotland.
He said there may be another three years before the market begins to feed through to major developments.
Mr McColl believes it forms part of a positive outlook for engineering.
He told BBC Scotland that he intended to manufacture turbine transmission systems at his David Brown engineering works in Huddersfield for a new 7 megawatt turbine which will then be assembled in Scotland.
The new jobs which would be created are in addition to rapid expansion of the pump-making business at the Cathcart plant he took over from Weir Group four years ago.
He sealed his commitment to that plant by agreeing last week to buy the site from Weir for £25m.
Growth plans
Publishing the 2010 figures for ClydeUnion Pumps, the name for the pumps business since combining it with American-based Union Pumps in 2008, Mr McColl said revenue and profits have been growing "impressively".
Four years ago, the business was turning over £68m, with £4.5m profit, but having doubled its scale with the American purchase, it reached £260m last year, with profits (before interest, tax and depreciation) topping £40m.
During this year, the company is budgeting for revenue of £413m, and profit of just under £60m.
It has made a significant move into the solar power industry in California, and it is building joint ventures in Brazil and India.
Mr McColl, who began as an apprentice at Cathcart aged 16, said the 535 jobs at the Glasgow plant have been protected by the company's growth, a further 350 have been added, and he expects more than 1,000 people will be working there within a year.
Nearly 1,000 more are employed in seven other manufacturing centres around the world.
The company chief said: "This is a labour of love. My goal was to take a company that was significantly under-performing and was dying - in fact it would have died - and rebuild it into the world-class business that it once was.
"Four years after buying the company we again have a world-class business.
"We're now known in all the major markets in the world, and are always mentioned in the top two or three in everything we do."
Mr McColl said the growth has been through focussing on emerging markets such as China, where the pumps market, supplying to the oil and water industries, and nuclear and conventional power stations, is growing faster even than their overall economies.
But he said there has also been organic growth of the business in winning market share, saying even if the downturn means the £10bn market contracts, ClydeUnion Pumps is in a position to continue its growth by continuing to grow its market share.