Scottish luxury ice cream sales 'hit by weather'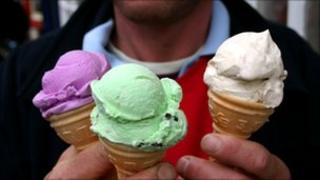 Luxury ice cream sales in Scotland have been melting away as a result of poor weather and tough economic conditions, according to producers.
The Ice Cream Alliance said firms were also being squeezed by rocketing costs for raw materials.
The trade body warned some manufacturers could be forced out of business unless conditions improved.
The alliance represents more than 600 businesses in the UK, including about 80 in Scotland.
It recently appealed to the Treasury for VAT to be taken off the price of ice cream to help producers cope with rising costs.
But the move failed when HM Revenue & Customs said it could not make changes to VAT because it was an EU-wide tax.
Ice Cream Alliance president Andrew Caldwell - who runs a parlour in the borders town of Innerleithen - said business was getting increasingly tough for manufacturers.
'Atrocious weather'
He revealed sales in his own business were 20% down on this time last year.
He commented: "One of the biggest challenges has obviously been the weather - it has been absolutely atrocious.
"We have big ice cream trailers which we take to fetes, agricultural shows and so on and we've not had one good weekend since the beginning of June.
"I think people are also finding it difficult financially at the moment. In the past we found they would buy a big cone, while they are now going for a small or medium one instead."
He added: "I would think a few ice cream manufacturers will go to the wall if things don't improve.
"I have been involved in making ice cream for 34 years and I can't remember things being this bad."
Twin challenges
Other ice cream manufacturers, such as Gatehouse of Fleet-based Cream o' Galloway, have also reported a slowdown in sales.
The firm makes about 200,000 litres of ice cream a year through its Galloway farm which also acts a popular tourist attraction, drawing about 70,000 tourists a year.
It too is bidding to tackle the twin challenges of running a weather-dependent business while meeting rising energy and raw material costs.
Managing director Wilma Finlay said: "Ice cream sales are down about 10% on last year.
"In April, the weather was very good but May and June just didn't happen. Usually there is an early spell but we didn't get that boost so it is difficult to expand just now.
"Most ice cream makers are small and we cannot compete on price, but that is all that is happening in the market just now."
Margins squeezed
Cream o' Galloway exports about 10% of its ice cream, mainly to South Korea.
About 45% of its sales are within 50 miles of the farm but it also relies on sales to supermarkets, where margins have been squeezed.
Ms Finlay continued: "Supermarket sales are so offer dependent. It is the manufacturer who pays for offers like 'buy one get one free'."
She added: "We are almost certainly going to look at bringing in other products such as cheese and developing visitor tourism so we can make more of what we have here, rather than become a global player."
One leading manufacturer - Mackie's of Scotland - said sales were "holding up quite well", despite the poor weather in Scotland.
The Aberdeenshire-based company, which produces 11 million litres of luxury ice cream a year, pointed out that it had benefited from being a nationwide distributor.
Managing director Mac Mackie said: "Weather certainly impacts on sales. We had fantastic April weather and it has been slightly downhill ever since.
"We sell our ice cream across the UK, which makes the difference.
"I think the weather in England has not been too bad, while Scotland has had a fairly cold summer. We are doing well, given the summer we have had."
Wind energy
But the weather is not the only challenge facing the company, which - like many other manufacturers - has been battling rising commodity costs.
In recent times, Mackie's has been investing heavily in wind energy and packaging equipment as it bids to maintain profitability in the face of ever-tightening margins.
It has installed three wind turbines with a capacity of almost 2.5 megawatts to help meet the energy-intensive demands of ice cream manufacturing.
It has also invested in its own injection moulding system, which has allowed it to produce much of its own packaging.
Mr Mackie said: "Our profitability has gone down in the last couple of years - we are still making a profit but it is a smaller profit.
"We have just had to try to get more and more efficient over the last few years, making savings wherever we can.
"It is particularly difficult at the moment because commodity prices are rising, and we are having to pay a lot more for our raw ingredients and for our plastic for packaging.
"We buy a lot of cream and skim milk powder to add to our own milk, and the price of cream has doubled over the last three years or so."