Wolfson Microelectronics chip 'to improve voice calls'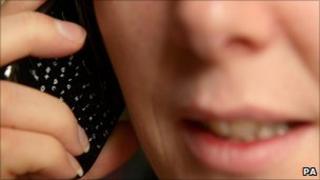 Chip maker Wolfson Microelectronics has claimed a world first with a new chip which it says will make voice calls clearer.
The Edinburgh firm's audio system-on-a-chip (SoC) is aimed mainly at mobile handsets and tablet PCs.
Wolfson said its WM5100 dramatically improved speech clarity for caller and listener in high-noise environments.
It integrates a multi-channel audio hub with noise cancellation technology in one device.
Duncan Macadie, from Wolfson, said: "As audio components in mobile phones and tablet PCs are increasingly becoming dis-integrated from the application processor, the demand is growing for separate audio SoCs."
He added the technology solved a major problem in the mobile phone industry by enabling the user to make and receive consistently highly-intelligible calls, whether in a quiet room or a noisy environment.
Wolfson said the WM5100 would be available for sampling later in the year.
Last month, the firm - which supplies Blackberry, Samsung and sat-nav maker Tom Tom - saw its share price fall by more than a quarter after announcing sales in the previous three months had been lower than expected.