Scotgold Resources submits new mine plans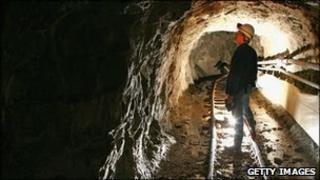 The firm behind plans to mine for gold in Loch Lomond National Park has submitted a fresh planning application after the first one was rejected.
Scotgold Resources said it had made changes which included reducing waste from the mining process and the impact work would have on the landscape.
The first application was rejected by the National Park Authority (NPA) last August.
Scotgold said a fresh decision was expected in mid to late October.
The company initially appealed against the decision to reject its plans to mine for gold at Cononish, near Tyndrum, but withdrew that appeal, deciding instead to submit a fresh application.
The group said it had been in talks with the park authority over the past year.
Chris Sangster, chief executive of Scotgold Resources, said: "Significant time and effort has been taken to address the issues identified by the NPA following their refusal of Scotgold's previous application in August last year."
He added: "We believe the current submission addresses the NPA's concerns and we look forward to the project successfully moving through this planning stage."
Employment opportunities
Scotgold said it believed that the project would "deliver major direct and indirect employment opportunities, as well as considerable economic investment potential to the immediate area and to the region".
The company has said the mine has the potential to produce 20,000 oz (567kg) of gold and 80,000 oz (2,268kg) of silver annually.
Scottish gold is reported to be among the most expensive in the world - 0.035oz (1g) of it can cost more than five times the price of normal gold.
If plans work favourably for the company, it will be the first time the precious metal has been successfully extracted from a Scottish mine for more than 500 years.
Gordon Watson, the planning director at the national park said the revised application followed "extensive discussions" to address concerns raised with the first attempt.
He added: "We will be carrying out consultations over the coming weeks and details of the proposal are available on our website and will be exhibited in our offices in Balloch.
"It is expected that the proposal will be considered by the full park board by the end of October."