Dairy firm Graham's to pay farmers more for milk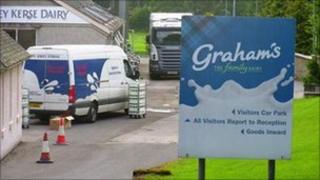 A Stirlingshire dairy has announced it is to increase the amount it pays its farmers for milk.
Graham's will pay its 70 dairy farmers 0.5p more per litre, bringing the price to 27.3p.
The Bridge of Allan-based company said the move would help to "alleviate some of the financial burden" farmers were facing, with rising costs in feed, fertilizer and fuel.
The increase is due to come into effect on 1 August.
In announcing the price rise, Graham's chairman Robert Graham senior said the company was "all too aware" of the rising costs farmers were having to deal with.
He added: "We greatly value our relationship with farmers and hope our decision to raise the price we pay for our quality milk will help to alleviate some of the financial burden they currently face."
NFU Scotland welcomed the price increase, saying it was a "step in the right direction".
True market
Milk committee chairman Kenneth Campbell said: "The announcement is also a great testament to what can be achieved when producers come together.
"Graham's have recently endorsed the set-up of a producer group among their suppliers, and in quick succession a price increase has been announced."
However, Mr Campbell said the average milk price across Scotland was "still a long way off the true market" of more than 30p per litre, about 3p-4p more than most producers were currently receiving.
He added: "We are continuing to speak with processors and retailers to highlight the benefits of having a truly transparent pricing mechanism in the dairy sector, but these proposals will unfortunately not be an overnight solution.
"In the meantime, producers ultimately need more money now."