Irn Bru maker AG Barr warns of price increase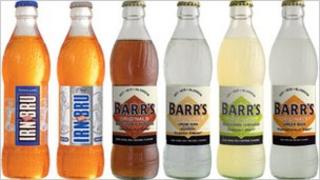 The makers of Irn Bru have warned of increasing prices because of rising input costs.
But AG Barr is expecting like-for-like sales growth of about 10% for the year to 1 April.
The Cumbernauld-based firm said it had performed well in the last quarter, despite operational difficulties in bad weather last month and stronger promotions by its competitors.
It follows strong growth, even through the worst of the recession.
AG Barr has doubled sales of Rubicon fruit drinks since it took over the London-based brand and bottling plant three years ago.
It has also been focusing its growth efforts for Irn Bru sales in the north of England.
In a trading update, company sales in the three months to 30 January were up 5% on last year. That represents a slowdown on sales growth earlier in 2010, when sales were up 14%.
But the financial year to April should see growth of like-for-like sales of about 10%, with profit margins holding steady.
'Especially pleasing'
The update statement said the final quarter of trading was "especially pleasing", given they were being compared with strong sales the year before.
Sales of Rubicon increased by more than 30% over the past year, breaking through the £50m mark for the first time. It has been helped by a promotion deal with English and Welsh cricket.
Looking ahead, the AG Barr statement said: "Over the course of the next financial year, we expect to see increased pressure on consumers as rising inflation and static household incomes impact purchasing power."
But it said sales should keep growing because the main brands offer quality and value for money with a growing geographic reach.
It added: "The investments we have made in our asset base to improve efficiency together with tight cost control and price increases will continue to help offset rising commodity costs."