'Positive line of inquiry' in Aberdeen jewellery robbery probe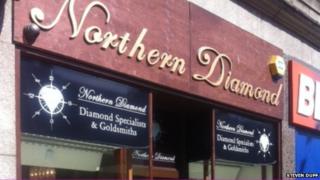 Police probing a £20,000 robbery at a jewellery shop in Aberdeen are following a "positive line of inquiry".
The thief grabbed rings and a bracelet from the Northern Diamond store on Union Street on Tuesday before escaping in the Golden Square direction.
He was described as eastern European with black hair. He was wearing jeans, trainers and a blue jacket with a white stripe across the chest.
Northern Diamond owner Oscar Ozdaslar scuffled with the man.