Orkney wartime oil tank re-use considered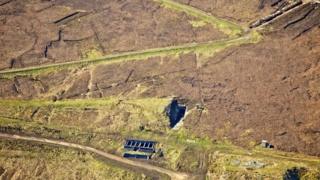 A project that could see underground oil tanks built during World War Two brought back into use is set to be launched in Orkney.
Banffshire-based Northern Oils is to see if the six tanks could be used to store and supply marine gas oil.
Work on the underground oil tanks in the Orkney island of Hoy began in 1938.
They were built into the hill above the naval base at Lyness to protect them from German air raids.
The six tanks were capable of holding more than 130 million litres of fuel oil - but have lain empty for decades.
Now, though, they could be set for a new lease of life.
Northern Oils sees them as an ideal base for a fuel distribution hub for its customers both in the UK and across northern Europe.
An agreement with Orkney Islands Council will see the company spend a year investigating the viability of the project.
Michael Morrison of the local authority said: "We have not really actively marketed the tanks at Lyness but had several interested parties over the last five to seven years."
He said some of them had gone "quite a way down the line" but nothing had come to fruition.
Mr Morrison said that when Northern Oils had discovered the capacity of the tanks that was when the "lights came on for them".
The council has given the company 12 months to find out if the tanks are fit for purpose.
However, Mr Morrison said initial inspections had shown them to be in "remarkable condition".