Artist Peter Howson departs Aberdeen for autism walk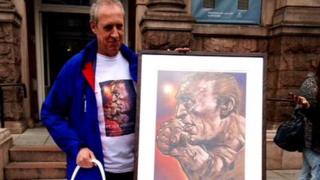 The artist Peter Howson has set off from Aberdeen on a walk across Scotland to raise awareness of autism.
Howson, who has the condition, as does his daughter Lucie, is also raising money for autism research.
The 300-mile Putting Autism on the Map walk aims to see him reach Ayr by 24 April.
Howson, 56, whose clients include Madonna, Bill Gates and David Bowie, said: "I've had so much positive encouragement in training."