Baby Alexis Matheson murder: Fatal Accident Inquiry in April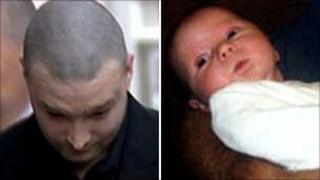 A fatal accident inquiry is to be held in April after a man was convicted of murdering a six-week-old baby in Aberdeen.
Mark Simpson was jailed for a minimum of 20 years for killing his then-girlfriend's daughter Alexis Matheson by assaulting her in 2007.
Simpson had lived with the baby's mother Ilona Sheach.
The inquiry is scheduled to last three weeks starting on 22 April at Aberdeen Sheriff Court.
Simpson was found guilty in November 2010 of the murder of baby Alexis by shaking her to death, having denied murder by assaulting her between 18 November and 9 December 2007.
The Crown urged the jury to convict Simpson for what was described as his "wicked recklessness".
The defence argued there was no sufficient corroborating evidence to say he even assaulted the baby.
Judge Lord Uist had told Simpson: "The pain and agony which baby Alexis must have suffered as a result of the injuries which you inflicted upon her are unthinkable."
Prevent a repeat
He called for a fatal accident inquiry due to his "serious concern".
The judge said: "I wish to add that the evidence which I have heard in the course of this trial gives rise to serious concern on my part about the way in which baby Alexis was dealt with by the health service and whether her subsequent death could have been prevented, had signs of non-accidental injury been detected earlier."
He called for an inquiry "with a view to preventing a tragedy such as the one that occurred in this case ever occurring again".
A major review into the case concluded in 2012 that her death was not predictable from the information available to medical staff at the time.
The north east of Scotland child protection committee had reviewed the case.