Super Puma fatal accident inquiry: 'Flogging a dead horse' claim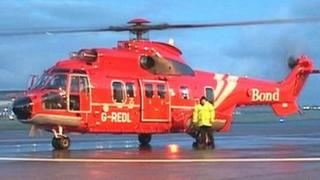 A sheriff overseeing an inquiry into the North Sea Super Puma crash in which 16 men died has expressed frustration at information from a witness.
All those on board the Bond Super Puma helicopter died when it came down in April 2009.
Engineer Matthew Smailes said in evidence he could not be specific about a metal chip.
Sheriff Principal Derek Pyle said: "The expression flogging a dead horse comes to mind."
Former Bond employee Mr Smailes worked as an adviser for the Health and Usage Monitoring System (HUMS) which recognises faults in helicopter gearboxes.
Shortly before the crash, a metal chip was detected in the gearbox of the aircraft.
'Long time ago'
During questioning, Mr Smailes said he did not recall many of the details surrounding the discovery of the chip.
When asked specifically if he was simply drawing conclusions of what would have happened, Mr Smailes said: "Sorry, it was such a long time ago I couldn't be specific."
The AAIB pinpointed a catastrophic failure of the gearbox for the crash.
The inquiry continues.