Owen Petrie jailed for Hazlehead Academy paintball attack in Aberdeen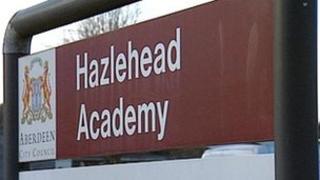 A man who fired a paintball gun into a busy Aberdeen school playground has been jailed for two years and eight months.
Owen Petrie, 22, fired at Hazlehead Academy from the sunroof of a car while masked last June.
Former pupil Petrie admitted the offence at Aberdeen Sheriff Court, which was committed while he was on bail.
Sheriff Graeme Buchanan said: "This is a very serious matter."
He added: "In addition to the obvious danger with firing paintball pellets indiscriminately at school children there was also a fear factor in that you were going around in this mask in a public place next to a school - no doubt creating a terrifying situation for the children who witnessed you behaviour on that day."
Petrie hit two pupils with paint pellets, while others ran in different directions.
Defence lawyer Peter Keene said his client was a paintball fan, had just bought the new gun, and had originally planned on going to a practice area.
Instead he targeted the school.
Mr Keene said: "When it comes to shooting at school children it becomes a more serious matter."