Distress call helicopter lands safely in Shetland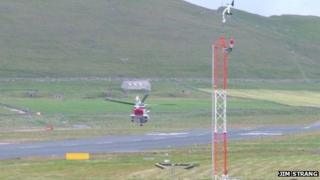 A Super Puma helicopter with 14 people on board has landed safely in Shetland after sparking a full-scale emergency.
The helicopter was 45 miles east of Sumburgh Airport when the pilot issued a distress call, just after 17:30.
An indicator light in the cockpit showed a possible problem with a pump on board.
Emergency services were scrambled and two Shetland lifeboats were put on standby.
The Super Puma was escorted to the airport by the coastguard helicopter which had been on a training exercise at the time.
The aircraft landed safely just before 18:00.
A spokeswoman for the operator CHC said the helicopter would be checked by engineers, and passengers were being flown to Aberdeen.
A fatal accident inquiry is currently being held in Aberdeen into the crash of a Super Puma in 2009 which killed 16 people.