Novel Orkney book scheme marks 60th anniversary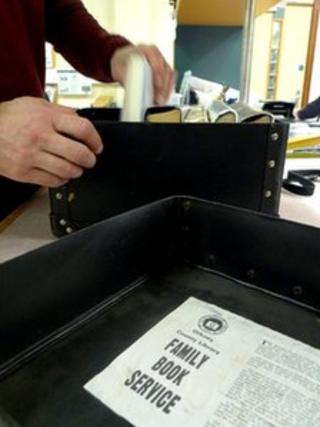 A novel method of distributing books to avid readers in some of Orkney's most far-flung islands is celebrating its 60th anniversary.
The Family Box Service began in 1954, and the advent of roll-on roll-off ferries meant that library vans could access most islands.
Each leather box is filled with titles to suit the recipient.
Crime writer Ann Cleeves visited North Ronaldsay to launch the celebrations and make the latest delivery.
The author of the Shetland crime series said: "It was fantastic to talk to islanders about the box scheme and to share stories with the children and the adults."
Islander Maureen Johnstone said: "The service is fantastic - we don't get into town very often, perhaps monthly, and when we do we've got so much to get done that it's hard to slot in some time to wander about the library picking books.
"So when the box comes through every month it's a little bit like Christmas."
Orkney library and archive manager Gary Amos said: "Orkney was ahead of its time back in 1954 in recognising the importance of providing a book service to remote areas, and it is thought that it was the very first example of this type of service anywhere in the world.
"It's a vital service and much-valued by our remotest residents."