Super Puma fatal accident inquiry: Repairs debris 'could have caused crash'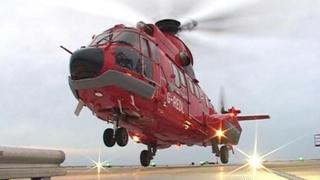 A North Sea helicopter crash in which 16 men died could have been caused by debris falling into the helicopter gearbox during repair work, an inquiry has heard.
All those on board the Bond Super Puma died when it came down in April 2009.
The 13th day of the fatal accident inquiry heard a defective helicopter part was ruled out as it would have failed not long after it was fitted.
Debris or steel breaking away due to contact pressure were suspected.
The inquiry heard that sophisticated tests were carried out in a bid to establish what went wrong.
Eurocopter transmission design specialist Emmanuel Mermoz said experts identified three possible scenarios which could have caused the crack.
With a defective part ruled out, the inquiry heard that they believed the accident could have been caused by two things - spalling or debris getting into the gearbox part.
The gear tooth showed classic signs of spalling, which is when a piece of steel has broken away as a result of contact pressure caused by other gearbox components.
Chip detectors
Mr Mermoz said the helicopter manufacturer had only dealt with a few cases of spalling in helicopter parts before.
But he said maintenance staff had always identified the problem because of chip detectors installed in helicopter gearboxes which were designed to collect the metallic particles.
The Air Accidents Investigation Branch (AAIB) pinpointed a catastrophic failure of the gearbox for the crash.
The two crew who died were Capt Paul Burnham, 31, of Methlick, Aberdeenshire, and co-pilot Richard Menzies, 24, of Droitwich Spa, who worked for Bond Offshore Helicopters.
The KCA Deutag employees killed were Brian Barkley, 30, of Aberdeen; Vernon Elrick, 41, of Aberdeen; Leslie Taylor, 41, of Kintore, Aberdeenshire; Nairn Ferrier, 40, of Dundee; Gareth Hughes, 53, of Angus; David Rae, 63, of Dumfries; Raymond Doyle, 57, of Cumbernauld; James John Edwards, 33, of Liverpool; Nolan Goble, 34, of Norwich, and Mihails Zuravskis, 39, of Latvia.
The other victims were James Costello, 24, of Aberdeen, who was contracted to Production Services Network (PSN); Alex Dallas, 62, of Aberdeen, who worked for Sparrows Offshore Services; Warren Mitchell, 38, of Oldmeldrum, Aberdeenshire, who worked for Weatherford UK; and Stuart Wood, 27, of Aberdeen, who worked for Expro North Sea Ltd.
The inquiry continues.