Aberdeen Hamilton School's care standards investigated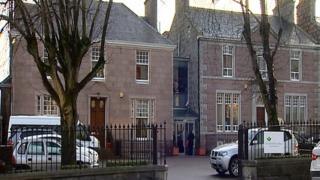 An investigation has started into claims about the standard of care at a private school in Aberdeen.
The Care Inspectorate has confirmed to BBC Scotland that it has become aware of allegations in connection with the Hamilton School.
The school in Aberdeen's West End caters for children between three months and 12 years old. It was established there in 1975.
The Inspectorate told the BBC it has been made aware of allegations.
It has passed these on to Aberdeen City Council. Officials there will determine if there are any issues that need to be investigated.
The Council said its staff met management at the school on Monday afternoon to discuss the matter.
In May and June last year, the Care Inspectorate upheld complaints against the school.
Communication
They included concerns over staffing levels, staff training and qualifications, as well as communication between staff and the families and carers of children.
A spokesman for the Care Inspectorate said: "We have become aware of allegations in connection with the Hamilton School Nursery in Aberdeen.
"These have been passed to Aberdeen City Council who, as is normal with allegations of this nature, will determine if there are child protection issues to be investigated.
"The safety of children is our primary concern and we are working closely with the local authority to ensure that all children are protected and their rights respected.
"We take all complaints seriously and anyone with concerns can report them, anonymously if necessary, by calling our helpline on 0800 600 9527."
City council
An Aberdeen City Council spokesperson said on Monday: "We part-fund pre-school and ante pre-school places at the Hamilton School.
"We have been made aware of the allegations made by a number of people on a social media website and our staff are meeting with staff at the school this afternoon to discuss this matter."
Hamilton School owner Kathlyn Taylor said: "The Care Inspectorate are responding to allegations initiated by a disgruntled former employee in the nursery department and they of course are duty bound to investigate any complaints.
"We will offer them every support in their investigation but I am completely satisfied with my staff and procedures at the school. I am appalled that this situation has arisen and I feel that this is nothing more than a personal attack against me, my family and the school that I have built up for 40 years.
"We have an exemplary history and we continue to maintain the highest possible standards of care and education for all of our children. We are greatly reassured by the many messages of support which our parents, former parents and staff have offered in relation to this issue."