Aberdeenshire councillors set to push ahead with Stonehaven flood defences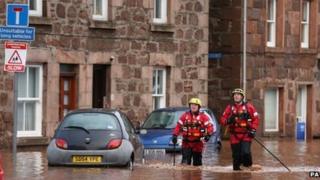 Councillors are set to push ahead with major flood defences aimed at protecting Stonehaven.
Dozens of homes were evacuated, and properties damaged, after the River Carron burst its banks last December.
Residents and business owners were given the chance to comment on the preferred flood defence plans at a recent consultation event.
Aberdeenshire Council's infrastructure services committee will be hear the scheme could cost from £10m to £12m.
It would include floating walls that rise up with water levels.
A new warning system to alert Stonehaven residents to flooding dangers was launched last month.
The new system is being operated by the Scottish Environment Protection Agency.