Typhoon Haiyan in Philippines: Orkney commander describes helicopter aid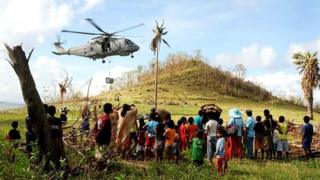 An Orkney Royal Navy helicopter commander has been describing his role in delivering aid in the wake of the "mindboggling" Philippines typhoon disaster.
Lieutenant Commander Edwin Cooper, from Stromness, is in command of a Merlin helicopter from HMS Illustrious.
They are trying to deliver 500 tonnes of aid in the wake of the disaster, which left thousands dead.
He admitted: "We are only a drop in the ocean."
Lieutenant Commander Cooper told BBC Scotland: "While operating off Africa, it was quite clear looking at the BBC news the Philippines was getting into difficulty.
"It was just a matter of time before the Royal Navy got involved.
"It was surreal. From afar and from ahigh you are looking at a beautiful place.
"But when we got closer you just saw swathes of devastation - complete communities just wiped out.
"You realise just how much work you have got to do."
He explained: "It's very satisfyingly tiring. We fly from sunrise to sunset.
"You can see the enthusiasm and hope - it's quite moving, it really is.
"We have seen signs saying thankyou, out of stones, and seaweed, and rags of clothes.
"That just spurs you on.
"It's mindboggling to get your head round how many people have been affected."