Super Puma FAI 'to last six weeks' when it starts in January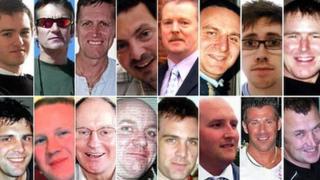 A fatal accident inquiry into a Super Puma crash in which 16 men died is expected to last six weeks when it begins in January.
All 14 passengers and two crew lost their lives in April 2009, when the helicopter came down in the North Sea.
At a procedural hearing at Aberdeen Sheriff Court, a planned start date of 6 January was confirmed.
The FAI will be overseen by Derek Pyle, Sheriff Principal for Grampian, Highlands and Islands.
The main chamber of Aberdeen City Council has been chosen as the venue, barring 28 January and 29 January when it is needed for council business.
Swift determination
Sheriff Principal Pyle said proceedings should be completed by Thursday 13 February.
He has assured relatives of those involved that the determination will be as early as possible.
Eight of the victims came from the north east of Scotland, seven from the rest of the UK, and one from Latvia.
The two crew who died were Captain Paul Burnham, 31, of Methlick, Aberdeenshire, and co-pilot Richard Menzies, 24, of Droitwich Spa, who worked for Bond Offshore Helicopters.
The KCA Deutag employees killed were Brian Barkley, 30, of Aberdeen; Vernon Elrick, 41, of Aberdeen; Leslie Taylor, 41, of Kintore, Aberdeenshire; Nairn Ferrier, 40, of Dundee; Gareth Hughes, 53, of Angus; David Rae, 63, of Dumfries; Raymond Doyle, 57, of Cumbernauld; James John Edwards, 33, of Liverpool; Nolan Goble, 34, of Norwich, and Mihails Zuravskis, 39, of Latvia.
The other victims were James Costello, 24, of Aberdeen, who was contracted to Production Services Network (PSN); Alex Dallas, 62, of Aberdeen, who worked for Sparrows Offshore Services; Warren Mitchell, 38, of Oldmeldrum, Aberdeenshire, who worked for Weatherford UK; and Stuart Wood, 27, of Aberdeen, who worked for Expro North Sea Ltd.