Aberdeen's Robert Gordon University launching £8m oil and gas institute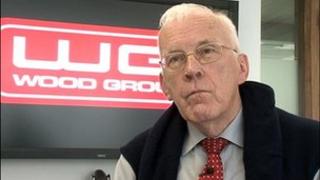 Aberdeen's Robert Gordon University (RGU) is to invest £8m in a new institute dedicated to the oil and gas industry.
It will work on issues such as enhancing recovery of existing reserves, decommissioning, and offshore healthcare.
Businessman Sir Ian Wood's family trust has made a £500,000 donation.
RGU said it would invest the £8m over five years, and would recruit leading experts with a global standing.
Prof Ferdinand von Prondzynski, principal of RGU, said: "The university has an international reputation for focused and relevant engagement with industry.
"This investment, which reflects RGU's priority commitment to oil and gas, will secure for the north east of Scotland high-value expertise that will support the industry in exploiting oil reserves and in building up innovation and enterprise in the supply chain."
Sir Ian said: "It is essential for both the UK and Aberdeen's future growth and prosperity that we maximise recovery of our offshore oil and gas resource.
"Wood Family Trust hopes that this donation will give a good start towards the £8m investment needed to deliver the institute."