Remembrance Day: Royal Oak's Royal Navy standard replaced by divers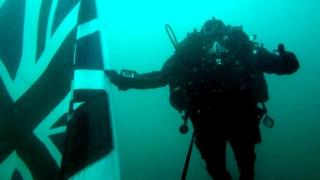 The Royal Navy white ensign on a battleship sunk at Scapa Flow in Orkney has been replaced by divers in time for Remembrance Day.
The Royal Oak was torpedoed by a German U-boat on Saturday 14 October, 1939, during WW2.
Most of the 1,200 crew were asleep below deck, and more than 800 - including many boy sailors - lost their lives.
Divers replaced the standard annually as a mark of respect.
Diver William Millar said: "It is a rare and great privilege to have the opportunity to dive on such a symbol of naval heritage.
"It is extremely moving to be able to take part in a small act of remembrance to honour the great sacrifice that those before us made."
He and his colleagues recovered the previous ensign, which will be presented to the Royal Oak Association.
Northern Diving Group's commanding officer Lieutenant Commander Richard Osbaldestin added: "We must remember that when Royal Oak was sunk she was fully bunkered - carrying a significant amount of fuel and her magazines were also full.
"Eventually as the wreck breaks up over time the fuel and ammunition will present a potential hazard. Surveying the wreck each year provides an early indication of the rate of decay of this magnificent ship."
The wreck is an official maritime war grave.