Erland Flaws found guilty after double death crash in Orkney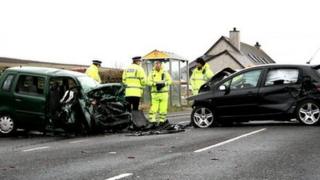 A man has been convicted of causing the death of two women by driving dangerously on an Orkney road.
Erland Flaws, 26, crashed into a vehicle being driven by Moira Towers, 65, on the A965 road in Orkney in February 2012.
She and passenger Anne Stanger, 64, both from Stromness, died.
Sentence at the High Court in Edinburgh was deferred after Flaws was found guilty.
The two women were returning from an evening playing bingo when Flaws - who had been speeding - hit them.
Flaws - who has a previous conviction for drink driving - strayed onto the other side of the road and hit the car which was coming in the opposite direction.
Flaws, of Wyre, Orkney, admitted colliding with the car but claimed he was not driving dangerously.
Temporary judge John Beckett QC said: "You have been convicted of a very serious crime. You caused the death of two women who had been returning home from bingo.
"You will be now remanded in custody."
Flaws had told the court: "I feel responsible for the deaths but I don't feel responsible for the accident.
"I regretted it every day of my life and there have been days that I have cried myself to sleep."
Sentence was deferred to the High Court in Livingston on 28 November.