New Aberdeen exhibition centre preferred bidder named as Henry Boot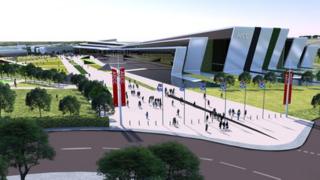 The preferred bidder for a planned new £200m Aberdeen Exhibition and Conference Centre (AECC) has been named.
Aberdeen City Council said Henry Boot Developments would take forward plans for a replacement for the existing AECC, to be built at a site near Aberdeen International Airport.
The current conference centre brings in tens of millions of pounds annually.
But the council has has had to bail out the venue several times.
Council leader Barney Crockett said: "The AECC makes a crucial contribution to the economy of Aberdeen and the broader city region.
"It has become clear in recent years that the existing facility is no longer fit for purpose or big enough to accommodate some of the larger shows and events.
"We must ensure Aberdeen continues to attract large and popular events, like Offshore Europe, to the city.
"Securing a top-class exhibition centre is essential if we are to succeed in that."
Henry Boot Developments managing director David Anderson said: "We are confident that we can deliver a state-of-the-art exhibition and conference centre to enable the city to build on its reputation as a major conference and exhibition venue."