Image of missing Antonin Mican's yacht released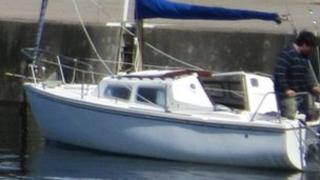 Police have released a photograph of a missing yachtsman's boat to help efforts by the emergency services and rescue teams to find him.
Antonin Mican, 32, was last at Gardenstown Harbour in the north east of Scotland on Friday evening.
It is believed he may have been intending to sail to Wick on the Caithness coast.
Mr Mican's yacht was described as a 22ft-long blue and white Jaguar 22 with one outboard engine.
A search involving lifeboats and an RAF helicopter in the Moray Firth on Thursday afternoon found no trace.
Divers and the Maritime and Coastguard Agency have joined the search, which resumed earlier.
Det Insp Norman Stevenson, of Police Scotland, has appealed for people to report possible sightings of Mr Mican.
He said: "It appears that this boat is Mican's only form of transport and he could have stopped anywhere along the coastline.
"We have carried out searches of the local area, although this will be continually reviewed as we go forward and assess any new information we receive."