Civil Servant from Dundee jailed for pension scam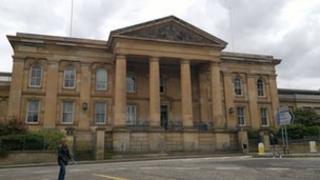 A civil servant from Dundee has been jailed for more than two years, after a scam to gain more than £42,000.
David Allan, signed off on payments to an account in his name, at the pension centre where he worked.
A investigation found that Allan had used the details of three different pensioners to "disguise" payments.
The 36-year-old's scam was uncovered after the family of one of the victims reported missing payments to cover funeral expenses.
Dundee Sheriff Court heard the investigation found "substantial" online gambling transactions from Allan's personal bank accounts, which saw him stake up to £90,000 a month.
Fiscal depute Susan Ruta told the court that in December 2010, the Department of Work and Pensions were contacted by witnesses who made an allegation about a missing arrears payment made on behalf of her deceased grandmother.
She said: "The witness applied for help paying funeral expenses and was refused as payment had already been made.
"She disputed that she had received the arrears payment.
"Enquiries found a payment had manually been processed, with the form signed by the accused."
"Enquiries were made about the account to which it was credited and showed the accused had opened the account.
CCTV evidence
The court heard Allan was seen on CCTV making withdrawals from the account at post office branches in Dundee, and in Birmingham on a day he was attending a health and safety course.
These pictures were later confirmed by the manager of the Dundee Pension Centre who identified them as the accused.
When Allan was charged by police he said he did not realise he had taken that amount of money.
The court heard that no individual person lost any money, and the loss was to HM Treasury.
Allan, pleaded guilty on indictment to embezzling £42,008.83 from Dundee Pension Centre between 10 May 2009 and 3 March 2011.
His not guilty plea to a further charge, brought under the Proceeds of Crime Act 2002, that he paid the cash to Paddy Power Plc between 27 January 2011 and 3 March 2011, was accepted by the Crown.
Breached trust
Defence advocate Gavin Anderson said: "I accept on his behalf that anyone working for the department is in a position of trust in relation to public funds.
"This is a man who was very much in the grip of a gambling addiction.
Sheriff Elizabeth Munro said: "I have to say that I think your crime is much more serious than a benefits fraud because it involves a breach of trust.
"You were a public servant and the public were entitled to believe you were trustworthy.
"You grotesquely breached that trust and I've come to the conclusion that this has to be a custodial sentence."
Sheriff Munro sentenced Allan to two years and three months in jail.