Peregrine falcon found in Kinellar returns to the skies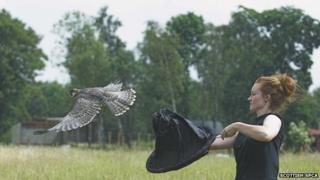 A peregrine falcon found grounded in Aberdeenshire has been returned to the skies.
The Scottish SPCA were called to rescue the young bird after it was found lying by a roadside, near Kinellar.
The bird of prey was found to be weak but otherwise uninjured. After 10 days rehabilitation the falcon was strong enough to be released.
Centre manager Colin Seddon said: "This young peregrine had only been fledged for around two weeks.
"It's possible that it may have been stunned after colliding with a car, although there's also a chance that it was grounded after becoming exhausted while trying to fly in high winds.
"Thankfully our vet found the bird to have no injuries or illnesses and after several days of feeding well and exercising its wings we were able to return it to the wild."