Elgin murder trial witness heard Kim Campbell's screams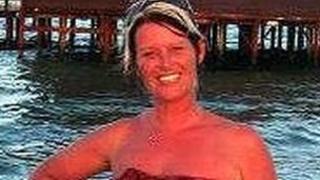 A woman was woken by a female neighbour's hysterical screams, a murder trial has been told.
Caroline Wheeler also heard a male voice shouting during the early hours of the morning.
Mrs Wheeler said she knew the woman's voice was neighbour Kim Campbell, 41.
She was giving evidence at the trial of James Munro, 56, who denies murdering Ms Campbell at her former home at High School View, Elgin, Morayshire, on 8 November last year.
Mrs Wheeler was woken at 03:00 and said: "I heard screaming - a woman screaming, quite hysterically."
She told the High Court in Edinburgh it was Kim Campbell and she recognised her distinctive voice.
She said she also heard a male voice shouting but could not make out what was being said by the man and did not recognise the voice.
Looked out
Mrs Wheeler said her daughter had also been disturbed from her sleep and she put her back to bed then looked out her bedroom window and saw lights on and a window open at 1, High School View.
Mrs Wheeler said police arrived later.
It is alleged that Mr Munro seized hold of Ms Campbell, dragged her into a room, locked the door, restricted her breathing, struggled with her, punched and kicked her and repeatedly struck her on the head and body with a knife or similar instrument.
He is also accused of assaulting Ms Campbell on 6 November by dragging her into the house and pushing her against a wall and of abducting her on the same date by preventing her leaving the house and detaining her against her will.
He is also charged with sending messages and making calls to Ms Campbell and Helen Taylor between 13 October and 3 November last year that were allegedly grossly offensive or of an indecent, obscene or menacing character, threatened violence and made remarks of a racist nature.
The trial before Lord Uist is expected to last six days and will resume on Tuesday.