Small dog dies after attack in Aberdeen watched by young girl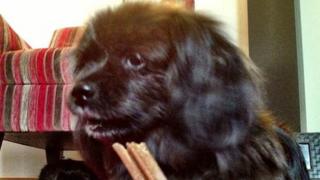 A man has told how his eight-year-old daughter watched as their small dog was mauled to death by a Staffordshire bull terrier in Aberdeen.
Richie Lyon and daughter Ruby were walking Roxy in Nellfield Place when the attack happened.
Mr Lyon told BBC Scotland: "Roxy was like a rag doll in the Staffie's mouth - my daughter was hysterical."
He said they rushed their pet dog to the vets but she could not be saved due to a broken spine.
The incident happened on Nellfield Place, between Holburn Street and Great Western Road, at about 08:30 on Wednesday.
'Covered in blood'
Mr Lyon said: "We were walking to school when the attack happened.
"We got Jet, our other dog away, but unfortunately Roxy was attacked.
"We did everything we could. We were covered in blood. It all happened so fast."
Five-year-old Roxy was a Pekingese and Dachshund cross.
A Police Scotland spokesman confirmed: "A dog was attacked by another dog and later died of its injuries."
Anyone with information has been asked to contact police.