Aberdeen project slashes fires at Aberdeen Gramps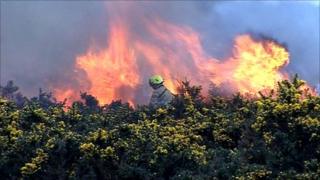 A project which has slashed deliberate fires at an Aberdeen beauty spot has been shortlisted for an award.
There were 137 fires at Tullos Hill, known locally as the Gramps, in 2005, and Aberdeen City Council's countryside rangers teamed up with the emergency services, to target primary schoolchildren.
Fires were down to six last year, and just one so far this year.
The Gramps project has been shortlisted in the Nature of Scotland Awards.
'Positive impact'
Aberdeen City Council countryside officer Ian Talboys said: "Wilful fire raising on the Gramps has been a long-standing problem but I am confident to say that we have turned a corner and seen a drastic reduction in the number of incidents.
"Our approach has been to be proactive and tackle the issue head on.
"The school pupils have learned a great deal from the project and it is encouraging to see the positive impact it is having on what is a hugely popular area of Aberdeen."
The winners are expected to be announced in October.