Orkney group set to assess external ferry services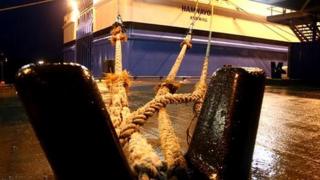 A special group that will look at issues surrounding Orkney's external ferry services is set to be launched.
The proposal comes as part of a report going before councillors on links with the mainland.
The policy and resources committee will consider the report which focuses on current arrangements and the recent disruption caused by the ferry Hamnavoe's breakdown.
It is estimated wharfage fees on cars and passengers were down by £40,000.
Councillors will be asked to approve the formation of a ferry services consultative forum.
It would include representatives from Transport Scotland, Serco NorthLink, other ferry operators, and local tourism businesses.
Hamnavoe, which sails between Stromness and the mainland, was out of action for four weeks.
The ferry had suffered a crankshaft failure.