Dundee makes City of Culture 2017 shortlist but Aberdeen misses out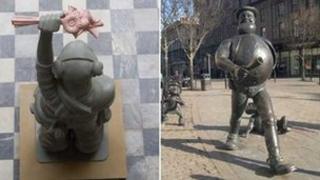 Dundee has made the shortlist for the UK City of Culture in 2017, but Aberdeen has missed out.
A total of 11 towns and cities were in contention for the accolade.
Hull, Leicester and Swansea Bay were the other three to make the shortlist. The winner will be announced in November.
The other contenders were Chester, East Kent, Hastings and Bexhill on Sea, Plymouth, Portsmouth and Southampton, and Southend-on-Sea.
Ken Guild, Dundee City Council's administration leader and chairman of the Dundee Partnership, said: "This is wonderful news for the city and all the organisations and individuals who have passionately backed our case.
"Dundee's ambition to be city of culture is based on enthusiastic participation in the arts across our communities.
"Winning City of Culture status would have a huge impact on Dundee and we want to enjoy those benefits for years to come."
Philip Long, director of the V&A at Dundee international design centre, said: "This is clear recognition of the investment that is being made here in cultural regeneration and the tremendous spirit of collaboration that exists across Dundee, bringing together people and ideas from across the city's communities."
'Hard work'
VisitScotland's chief executive Malcolm Roughead said Dundee's inclusion on the shortlist was "fantastic news for both the city and for Scotland".
He said: "To have reached this stage, in what is a highly competitive process, is testament to the hard work of the team and their dedication to the strong cultural offering of the city.
"Dundee is a city which has invested in cultural-led urban renewal, with the new V&A in particular already attracting significant interest from across the cultural sector.
"The city has a strong cultural reputation, with a number of great organisations and partnerships delivering some hugely exciting projects, events and festivals."
Television presenter Lorraine Kelly also expressed delight at Dundee's success.
The team behind Aberdeen's bid expressed disappointment at the news, but congratulated Dundee.
Stars including singer Emeli Sande and comedian Billy Connolly had supported the Granite City's bid.