Pony mutilated during 'sickening' attack in Inverurie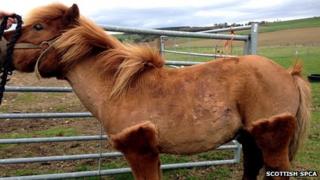 The Scottish SPCA has appealed for information after an 18-year-old Shetland pony was found mutilated in Aberdeenshire.
Robbie suffered multiple wounds, including cuts, during the attack in the Meikle Wartle area of Inverurie.
Insp Fiona McKenzie, from the animal charity, described the incident as "deeply concerning".
It is believed the attack took place between Thursday evening and Friday afternoon.
Robbie also appeared to have bite injuries, possibly caused by a dog.
'Held him'
Insp McKenzie said: "This attack would have been extremely frightening for Robbie and caused him a great deal of pain, suffering and distress.
"Robbie was wearing a head collar so I think someone may have held him still while the attack was carried out.
"Otherwise, I believe he would have struggled, making it difficult to inflict so many wounds.
"We are urging anyone with information to contact us, even anonymously, as we need to find the cruel person responsible for this sickening incident."
She added: "Thankfully, all the wounds are superficial and, physically, Robbie is going to be alright. Nonetheless, this incident is deeply concerning."