Campaign to help improve Aberdeen's Allan Park launched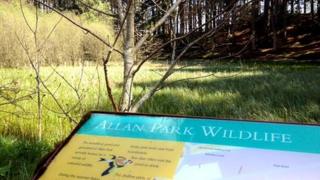 A campaign aimed at helping a "hugely popular" Aberdeen park is being launched.
Allan Park is nestled between the old Deeside Railway line walkway and the River Dee.
Local supporters say it is something of hidden gem but claim it is in need of improvements.
A public meeting will be held at Cults Academy, at 19:00 BST on 29 May, with the aim of setting up a Friends of Allan Park group to raise funds.
A spokesman for Aberdeen City Council said: "Allan Park, while relatively small, is a hugely popular facility which has attracted very few complaints in recent years.
"The park is not neglected and receives regular attention from our dedicated team of ground staff who carefully manage and maintain the park on a limited budget."
He said the council was grateful a Friends group was being established for Allan Park.
"Like all the other Friends groups we work with, we look forward to a fruitful and productive relationship," he added.