SNP councillor Fergus Hood moves to Lib Dems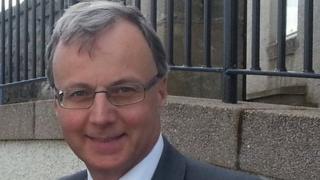 An SNP councillor in Aberdeenshire has joined the Liberal Democrats.
East Garioch councillor Fergus Hood said he was disappointed that the SNP had been unable to form a ruling administration.
The SNP was the biggest single party in Aberdeenshire after last year's election, with 28 councillors.
However, the administration which runs the council is a coalition of the Conservatives, Liberal Democrats and Independents.
Mr Hood said: "I was very disappointed not to be able to form an administration with SNP colleagues last May but we had the opportunity and threw it away because of internal divisions around the leadership."
He added: "I have been the shadow finance spokesperson for some years and hope that I will now get the chance to use my skills, experience and knowledge of the council finances to deliver the best possible public services to the residents of Aberdeenshire as a member of the administration."
SNP group leader on the council, Hamish Vernal, said: "Councillor Hood, like the rest of the group, was upset about the SNP not being able to move into the administration of the council last year despite having our best ever results and, by a long distance, having the most seats and the strongest mandate of any of the parties in Aberdeenshire."
He said Mr Hood's decision was "clearly personal rather than political".