Nexen's shut down Buzzard North Sea oil field due to restart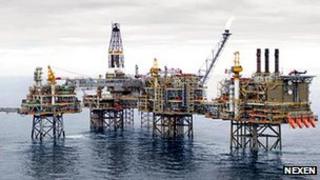 Production at one of the UK's largest-producing North Sea oil fields is set to restart.
Nexen's Buzzard field, about 100km north east of Aberdeen, was shut down after an alarm was initiated on Monday evening.
A "release of steam" was later blamed.
Nexen told BBC Scotland it was preparing to restart production on Wednesday, and that Buzzard should be back to full production within 48 hours.
The field holds enough crude to potentially deliver about 10% of the UK's annual forecast oil demand.
Buzzard, run by Nexen and with BG Group a 21.7% shareholder, is one of the biggest North Sea fields to be developed in the last 10 years.