Rescued Aberdeen black seal pup released back into wild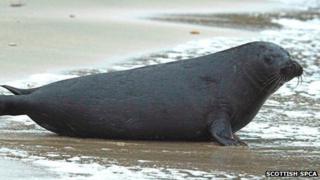 A rare jet black seal pup found struggling to survive on Aberdeen Beach has been released back into the wild.
Liquorice, a young male grey seal, was weak and very thin when he was found by a member of the public last month.
The Scottish SPCA rehabilitated Liquorice at its National Wildlife Rescue Centre at Fishcross in Clackmannanshire.
A spokesperson said: "He's piled on the pounds and looked stunning as we watched him shimmy into the water."
He then dove under the waves at Silversands at Aberdour in Fife.