Nat Fraser case: Arlene murder appeal delayed by new documents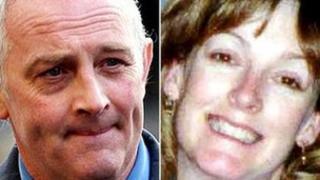 An appeal against conviction by convicted wife killer Nat Fraser has been delayed by the discovery of new police documents.
Fraser, 54, has twice been convicted of hiring a hit-man to murder estranged wife, Arlene, who vanished from her Elgin home in April 1998.
He was due to challenge his second conviction but his defence team asked for more time.
They are working their way through newly-found Grampian Police paperwork.
It was discovered during a clear-out in preparation for the new all-Scotland police force.
The documents relate to the extent of undercover surveillance on Fraser after his wife's disappearance.
Defence QC John Scott told the Court of Criminal Appeal in Edinburgh what had been seen so far "may not be of terribly great significance" but he asked for more time.
Advocate depute Alex Prentice QC, for the Crown, said the newly found paperwork had been among 1,100 boxes of documents relating to other cases.
Judge Lord Eassie agreed to discharge the hearing and urged Mr Scott to investigate "with all possible expedition".
A progress report is expected in mid June.
Fraser was jailed for a minimum of 17 years in May 2012 after being found guilty for the second time of murdering his estranged wife Arlene. Her body was never found.
He was initially found guilty of murder in 2003 but started a lengthy appeal process which led to the retrial.
Fraser claims he suffered a miscarriage of justice because a witness revealed to the jury in the second trial that the accused had been in prison shortly before his wife disappeared.