Rhino heads removed from display at Elgin Museum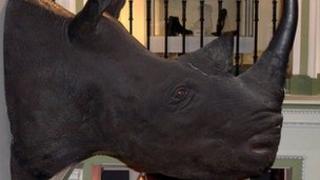 Two rhino heads have been removed from display at a Moray museum over fears they could have been a target for organised criminals.
The heads will be missing from Elgin Museum when it opens for the year this Friday.
Their horns could be worth tens of thousands of pounds as Chinese medicines.
The heads were both the trophies of explorers in the 19th Century.
They are now under lock and key at the National Museum of Scotland in Edinburgh.