Amanda Leiper killed in Aberdeen over 'lazy' comment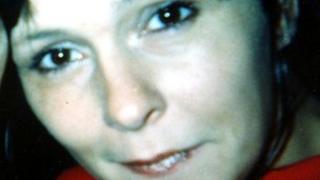 A mother-of-five was battered to death in Aberdeen after she called her friend "lazy", a court has heard.
Anne-Marie Mullen, 24, admitted slapping and kicking Amanda Leiper, 38, to her severe injury and Alix Wilson, 21, admitted culpable homicide by kicking her on the head and body.
The pair went on trial for murder at the High Court in Aberdeen but they admitted lesser charges during the fourth day of the trial.
David Mullen was acquitted of murder.
The court heard how Ms Leiper was repeatedly kicked on the head and body after she had an argument with 63-year-old Mr Mullen in his flat.
Ms Mullen slapped and kicked Ms Leiper several times. Ms Mullen's female lover Wilson then killed Ms Leiper by kicking her head with such force it "bounced off the wall".
The two women then went out to a bar to carry on drinking, leaving Ms Leiper seriously injured on the living room floor.
An agreed narrative of what happened on the night of Ms Leiper's death was read out in court.
On 10 July Ms Mullen had visited her father to help him clean his Park Road property in Aberdeen and they all ended up drinking together.
Alix Wilson turned up later and an argument broke out between Ms Leiper and Mr Mullen when they were all drunk.
Advocate depute Murdoch MacTaggert said Ms Leiper told Mr Mullen he was "lazy" when he refused to go to the shop.
Mr MacTaggert said: "Ann-Marie Mullen came in from the toilet and slapped Amanda Leiper across the face and told Amanda Leiper not to speak to her father like that.
"Ann-Marie said to Alix Wilson that she should get Amanda and put her out of the house."
No ambulance
The court heard that Wilson then attacked Ms Leiper in the living room of the flat.
Mr MacTaggert said: "Ann-Marie Mullen grabbed Alix Wilson and asked what she was playing at.
"Alix Wilson said she was doing it for her."
Ms Leiper was bleeding from the nose and mouth and left seriously injured on the floor of the property.
The court heard that Mr Mullen said he would call an ambulance but failed to call for help until just before 06:00. By that time Ms Leiper was dead.
Pathologists revealed that Ms Leiper had died as a result of blunt force trauma to the head which would have killed her within two hours.
They believe she died before midnight on 10 July.
Ms Mullen and Wilson were interviewed by police the following day and admitted assaulting Ms Leiper.
'Lost control'
Mr MacTaggert said Wilson admitted that she had "lost control" and attributed this to a mixture of alcohol and valium.
Mullen's defence lawyer said his client's actions were out of character.
He said: "The relationship between the deceased and the former accused David Mullen was a volatile relationship."
He said Ms Leiper had been charged with assaulting Mr Mullen but the case had not come to trial.
Mr Anthony said his client saw Ms Leiper take hold of her father when she came through to the living room and was trying to protect him.
He said his client accepted that she had kicked the accused, but it was not her actions which had caused Ms Leiper's death.
He said: "Clearly she acted in a way that was not acceptable."
Mr Anthony urged the sheriff to continue his client's bail so she could make arrangements for someone to care for her mother who suffers arthritis.
He said Ms Mullen, from Aberdeen, also wanted to transfer her property to her current girlfriend who was living with her at the address.
Judge Lord Matthews continued bail and Wilson, also from Aberdeen, was remanded.
Sentence was deferred until April for background reports.
Grampian Police Det Insp Cammy Preston, said: "I welcome the conviction of these two individuals, who carried out a violent attack on Amanda Leiper, which led to her untimely death.
"Her death has left a hole in the lives of her family, that will never be filled.
"Amanda was well known, a friend to many and is deeply missed by those who knew her.
"I would like to thank those members of the public who came forward to assist the police during the investigation."