Heavy snow causes travel problems in Grampian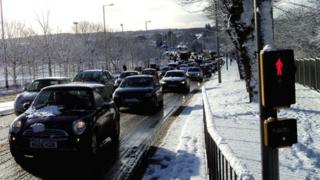 Heavy snowfalls have been causing problems on roads in the north east of Scotland.
A number of accidents have been reported with vehicles struggling in icy conditions.
A woman was taken to hospital with suspected chest and stomach injuries after a crash on the B9125 at Raemoir.
While the only roads officially closed are among the usual high level routes, Grampian Police warned drivers across the region to take extra care.
Transport problems have also been affecting a number of schools in the area.
To access more information from your mobile, visit the BBC Weather and BBC Travel News sites.
The enhanced content on this page requires Javascript and Flash Player 9
Map Key
Land
Cloud
Lakes, Rivers & Sea
Fog
Light
Heavy
Frost
Light
Heavy
Pressure Fronts
Cold
Warm
Occluded
Rain
Light
Heavy
Extreme
Snow
Light
Heavy
Temperature tab only
Temperature (°C)
More details from BBC Weather