Aberdeen FC withdraws beef products for Ross County game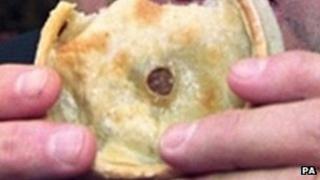 Aberdeen Football Club has withdrawn beef pies from sale at Tuesday evening's match against Ross County.
The Pittodrie club said its catering partner, Sodexo, took the decision to withdraw its beef products, for which the company does not have evidence of DNA testing.
It comes in the wake of horsemeat being discovered in products such as frozen meals and burgers.
The club said it had ordered more macaroni and chicken pies for the game.
Meanwhile, Public Health Minister Michael Matheson has said councils must ensure they are maintaining food testing standards.
The Unison Scotland trade union said it had found that the number of qualified environmental health officers at Scotland's local authorities had dropped.
Mr Matheson said: "It is the responsibility of local authorities to look at how they resource their environmental health departments to make sure that they are maintaining food testing standards within their own individual areas."