'Late for work - there's a sparrowhawk in the kitchen'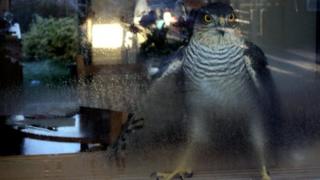 It's not every day you have to use the excuse you might be a little late for work because of a bird of prey in your kitchen.
However, that scenario faced my wife and I - and our three young children - this morning in Aberdeen when a sparrowhawk flew into our house and got stuck.
I was outside de-icing my car and walked back into the house, where my wife, Victoria, suddenly shouted: "There's a bird in the kitchen."
I assumed it was maybe a pigeon but walked into the kitchen and was confronted by this bird of prey.
Our three children ran in to see what all the fuss was about and got such a shock with all the flapping and huge wingspan that they ran straight back out again.
The poor thing was obviously in a panic - you could see its heart pumping and its breath was clouding the windows it was looking through.
We opened the back door and the windows and blinds, but it just wouldn't fly out.
Ornaments got smashed and we were on the verge of phoning the RSPB for advice when it finally took off and flew the length of the kitchen, through the back door, and into the sky, after probably a 30-minute ordeal.
It maybe knew it was right at the time we had to leave for school and work. We were so relieved to it got out safely and seemed none the worse for its scare.
'Sublime hunters'
We got some great photos into the bargain and our children, Daisy, Poppy and Harry, went off to nursery and school with a great story to tell their friends and teachers.
We thought it was a kestrel and, as a journalist, I had already dreamed up a "Our kestrel manoeuvres in the dark" headline for the story.
When I got into work, I contacted RSPB Scotland and sent them the pictures to get the bird identified - and learned it was a sparrowhawk.
Their media spokesman, James Reynolds, told me: "These are sublime hunters that predate smaller perching birds and typically hunt in gardens within the urban environment.
"When they are hunting, they are often so singularly focused on their prey that often become oblivious to the environment, or sometimes obstacles, that they are pursuing their quarry into and around.
"This occasionally leads them to fly into windows, but in this case will have caused it to enter your kitchen.
"The smaller bird that it was following no doubt quickly escaped, outwitting its pursuer, who looks a little bit confused and crestfallen in the picture but no less the worse for wear because of it."
So I have admit I was just a shade disappointed my dream headline was not to be.
However, our chance meeting with the spectacular creature will long live in the memory.