Fire smouldering at New Deer since June to be extinguished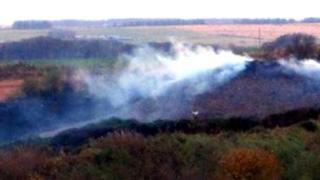 A fire which has been smouldering in a pile of wood chips at an Aberdeenshire recycling plant since last June is to be tackled.
The fire has been regularly monitored since it broke out at Keenan Recycling's plant near New Deer.
It had been deemed too environmentally hazardous to extinguish.
It has now been decided to remove and spread out sections of the pile, allowing it to cool and be extinguished.
Local resident Phil Hemsley told BBC Scotland: "The method is the the method we have been suggesting that they use all along, providing it's suitably risk-assessed.
"The amount of smoke we have had to put up with has been absolutely horrendous."