Police go door-to-door over murder of Steven Brown in Tranent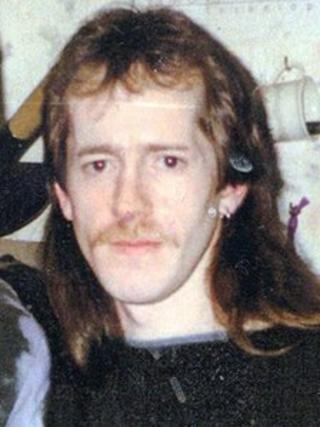 Detectives investigating the unsolved murder of a man in East Lothian almost 14 years ago are to carry out doorstep interviews in Tranent.
Steven Brown, 35, was found badly beaten and stabbed to death in a field near Elphinstone on 21 February 1999.
Lothian and Borders Police said new information had emerged about a disturbance in the town's Kerr Road the night before his death.
Officers said Mr Brown may have been involved in that incident.
The police said a large number of men and women took part in the disturbance.
Larger investigation
It has since been suggested that a crowd of people entered nearby King's Road before the disturbance, which happened at about midnight.
Police believe the group were directly involved in the incident and that more people are linked to Mr Brown's death than originally thought.
Officers carried out door-to-door inquiries in the King's Road area on Monday to trace any potential witnesses.
Forensic evidence dating back to 1999 has also been located and sent away to be examined.
Det Insp Gary Boyd said Lothian and Borders Police are determined to get justice for Mr Brown's family.
Evidence re-examined
"The information regarding the presence of two vehicles in King's Road prior to the disturbance in Kerr Road has only just emerged and we are following up on this particular line of inquiry through house-to-house visits taking place today," Det Insp Boyd said.
"A number of other lines of inquiry are also being actively pursued, including a re-examination of forensic evidence, which we hope will yield fresh information that can assist our inquiries.
"We have had a fantastic response from the local community as we seek to solve Steven's murder and we would urge anyone with any information that can assist us to come forward.
"We remain as determined as ever to achieve justice for Steven's family and we would ask anyone who has information regarding his murder to ask themselves whether they can continue to deny his family the justice they deserve after 14 years."
Witness intimidation
Meanwhile, detectives have also sought to reassure people in Tranent that they have nothing to fear following recent complaints of witness intimidation.
The complaints, which relate to the current reinvestigation of the 35-year-old's murder, are now under investigation
Det Insp Boyd added: "Any attempt to coerce or intimidate witnesses will be swiftly dealt with and we want to reassure people that police will take immediate action to address their concerns if they feel they have been threatened or pressured in any way.
"We continue to urge anyone who has information regarding Steven's murder to contact police."
A £5,000 reward has been offered by Crimestoppers for information leading to a prosecution.