Shetland Islands Council: Accounts Commission praises budget progress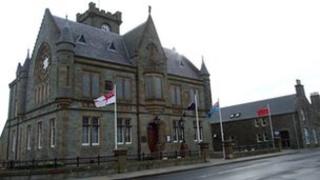 A report by the Accounts Commission has highlighted "major challenges" in tackling Shetland Islands Council's long-term budget problems.
The report also praised the authority for improvements made since it passed a new five-year financial plan.
Accounts Commission chair John Baillie said: "It is vital that this positive momentum is maintained as the council faces major challenges."
The commission criticised council leadership in 2010 after an audit.
In September, Shetland Islands Council (SIC) passed a five-year medium term financial plan.
It identified £29m of savings, which the Accounts Commission said would be "challenging for council staff and residents of the islands, who have been used to providing and receiving a high level and quality of service over recent years".
Islanders are already being consulted on the closure of nine schools as part of a reorganisation of services.
Mr Baillie described the Accounts Commission report as "very positive".
"There has been a real desire to tackle long-standing problems at Shetland Islands Council," he said.
Hard work
Last year the council appointed a new chief executive, Mark Boden, and a new finance chief, James Gray.
Council convener Malcolm Bell said: "It is easy to forget how far the SIC has come since the Accounts Commission carried out its two-day public hearing back in 2010.
"This is a very different council now, and we must continue to build on the intensive work which has taken us to this point.
"There are significant challenges ahead, but the report and the commission's findings are a testament to the hard work of staff and members over the past two years."