River swim teen swept out to sea in Banff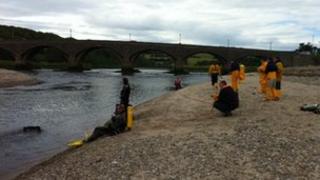 The search for a 16-year-old boy believed to have been swept out to sea in Aberdeenshire has been called off.
Reece Sweeney was last seen swimming with friends in the River Deveron, near Banff Bay, at about 02:00 on Saturday.
His two friends made it to the river bank and called for help but the teenager was last seen by Banff Bridge.
Aberdeen Coastguard said his chances of survival were decreasing so long after his disappearance and the search has ended for the day.
Police said Reece is from the local area.
The coastguard described the stretch of coastline as "benign" and said the river was not swollen.
Watch manager Steve Quinn, from the coastguard at Aberdeen, said: "It's not a very big area, Banff Bay is quite enclosed by Macduff on one side and Banff on the other.
"The river is flowing out to sea and the tide has been taking anything into the sea to the east, so it's quite a small, contained area. It has been very, very exhaustively searched so far."
He added: "We don't normally have any problems in this river, as where it enters the bay it's got wide sandy beaches so it's quite a benign part of the coast really."
Hayley Morden, watch officer at Aberdeen Coastguard, said: "The two friends are safe and well, but unfortunately we have not yet found the missing man."