Aberdeen harbour set for £5.2m of improvements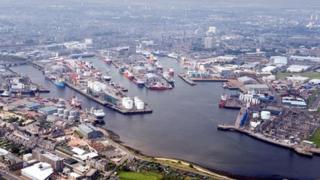 Aberdeen harbour is set for major improvements after a £5.2m contract was awarded.
Aberdeen Harbour Board said the work would focus on the port entrance, and widening and deepening the navigation channel.
The aim is improving ferry access in bad weather and attracting oil and gas and wind turbine industry traffic.
Colin Parker, chief executive of Aberdeen Harbour Board, said it was important to "stay ahead of the game".
The contract has been awarded to the Westminster Dredging Company.
The project is expected to be completed by early October.