Stonehaven outdoor pool to reopen following incident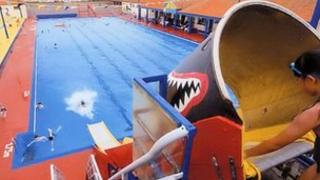 Stonehaven outdoor pool is to reopen following an incident where a boy was found unconscious at the bottom of the pool.
Aberdeenshire Council have confirmed that the pool will be open to the public on Thursday, 12 July.
The facility was closed to allow the council and the Health and Safety Executive (HSE) to carry out investigations.
The council's initial report found appropriate procedures were followed.
Stonehaven's Olympic-sized salt-water filled pool was closed after the incident two week's ago.
The injured boy - from Ferryhill Primary - was taken to hospital in Aberdeen before being transferred to a specialist unit in Edinburgh.
Continuing investigation
He was later released to recover at home with his family.
The local authority said it was continuing to work with the HSE as they proceed with their investigation.
Wilf Weir, head of service for education, learning and leisure for Aberdeenshire Council, said: "Following our initial investigation, we believe that appropriate procedures were followed.
"In order to reassure the public, we are enhancing the number of lifeguards on duty at the pool."